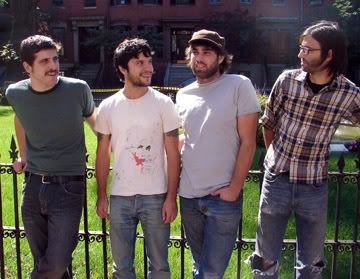 Local rockers Pieabald (1994-2008) after a little under two years after their last show ever at the Middle East are back together... or at least for the time being. Many people may have noticed Piebald on the lineup for the second day of the Bamboozle Festival in New Jersey (May 2nd). Yesterday this was confirmed on their Myspace, when Travis Shettel, singer and guitarist of Piebald, made the following post.
Hello friends of Piebald,
word on the street is that we are reuniting...and, while that is not quite true, we are getting together to play a show (or maybe 2) this year to celebrate the rerelease of our out-of-print catalog. "Piebald: First Ten Years" is going to be a 3 volume set of releases with 2 discs apiece that will be released on Rise Records. It will contain our first three albums, all our ep's, bsides and live gems. Volume I will be released in mid April, Volume II in mid May, and volume III in mid June. We will be playing "we are the only friends we have" from start to finish at the Bamboozle fest on may 2nd. We hope that you can come celebrate with us!!
Love,
Travis and the rest of The 'Bald
So along with at least one more Piebald show to go to there will be a whole catalog of re-releases to check out in a few months.
To check out some of Piebald's music or info on upcoming shows and releases you can visit either
www.piebald.com
or
www.myspace.com/piebal
d.
Travis is also now a member of
TS and the Past Haunts
Former drummer of Pieabld, Luke Garro, is currently in Boston based garage rock band
Barnicle