After seeing them blow up the Silent Barn and the Mercury Lounge at the head and tail of CMJ last year,
Male Bonding
appeared three English chaps destined for greatness. Then we scratched around for anything by them...and only came up with two collections entitled 'Ruff Demos' and 'Brattwell Shed Punk Sessions.' Needless to say, they were fucking gold, and the band was signed to Sub Pop.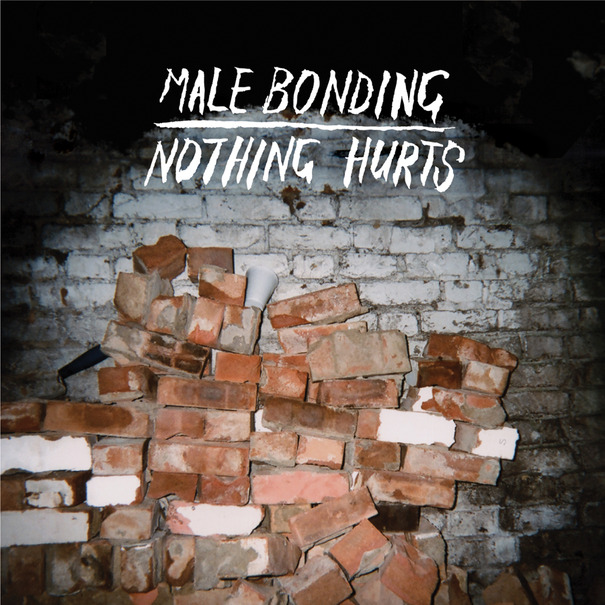 Oh the suspense. Now seven months later we have the release of their debut album
Nothing Hurts
, we have them breaking through a well deserved surface. First and foremost, MB can write a damn good pop song, but it's gonna be under 3 minutes, they're punk-rock. To be more exact, and to not call them post-punk/indie, these guys are intelli-punk with angular attack and frantic guitar work, and dabble in surf-rock. Immediately I noticed the speedy 1-2 shimmer of opener Years Not Long provided by guitarist John Arthur Webb, which breathlessly shoots into the dreamy All Things This Way. With each track, Male Bonding marks more territory; the lazy surf-haze of Franklin, the jostled, blistering R.U.F.F., or the heart-throb acoustic Worse to Come (feat.
Vivian Girls
).
Male Bonding
don't shy away from punk, but feel the need to evolve as polymaths of the genre. The unnerving anthem Pumpkin towards the conclusion deserves the old skip-to. Album-wide, Robin Christian's drumming is not only frantic in typical punk fashion, but also shows resolve in places, taking a back seat to wily guitar riffs or stabbing in cringing cowbell.
Of course, I cringed more live...and I loved it.
Nothing Hurts
' has more refined, alt-rock sounding versions of their songs sound different from live stuff and 'Ruff'/'Brattwell.' Of course, this simply makes them more accessible and allows them to put forth the breadth of sound they can produce better. The album will pass quick, and taking it at face value may be punk but
Male Bonding
writes simple statements, but is saying more...read between the lines...put it on repeat.
Nothing Hurts is out on Sub Pop on May 10th. Check out Male Bonding
here
.